This weekend got the better of us and we weren't able to take any outfit photos. I have to admit, I feel a little defeated. It's the first time since I started the blog in July that I have no outfits to post for an entire week. As I've mentioned before, we take pictures on the weekend and I do my best to blog in advance for the week. Sometimes an outfit doesn't photograph well - we're amateurs - so I swap out an outfit post for favorites or wishlist items.
I'm going to take this opportunity to share my holiday party picks for the upcoming season. Every year, the holidays sneak up on me and I find myself overwhelmed with Christmas shopping, travel, and events without the time to figure out what to wear to all of the work events and parties. It's never too early to start looking, and my picks for your work party are below.
I own this dress. I purchased it last year for holiday parties and a night out to the theatre. Unfortunately, I didn't size up as recommended and it was way too tight in the waist which is not a common problem for me. So, I recommend sizing up one to two sizes. I was able to exchange (after I found myself purchasing a dress at the last minute to wear to the theatre while I was out of town), and it was totally worth the hassle. I LOVE the three-quarter length sleeves. I know you're inside for holiday parties, but I'm always still a little cold when I go sleeveless. The lace sleeves provide just enough extra coverage. Plus, if the sleeves don't sell you, it has pockets. Which means, it's perfect.
Image is clickable.
Although this dress does not have sleeves, I think it would pair well with a cardigan or a faux fur shawl if that's your thing. Also, I don't wear a lot of embellished clothing items because I fear that they aren't very durable (not to mention I have no idea how to wash them - and I'm not about to hand wash an every day top, I'm too lazy to do regular laundry on a weekly basis). An embellished party dress has my name written all over it because it's a fun way to get in a little sparkle and it saves me from having to purchase dress specific accessories. It too has pockets and the color is spot on for the season (and I'm obsessed). The fit and flare will be especially flattering and forgiving if you happen to eat too much (or drink too much).
Image is clickable.
I love all things jacquard. This dress is very similar to the dress I bought in a pinch last year when the dress above didn't fit. It was also a green floral and I loved how festive but sophisticated it is.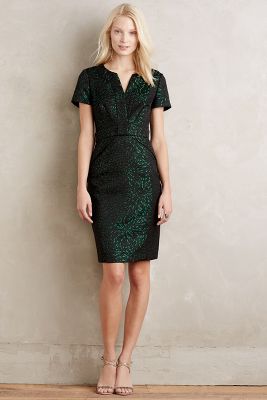 Image is clickable.
If you're looking for something a little sexier that will work for date night and the office party, this is my pick.
Image is clickable.
You can wear this last dress to work on Monday and to the office party on Saturday (because if you're like me you repeat your favorites often). It's a great option fro those in conservative offices who need to dress accordingly even during off-hour events.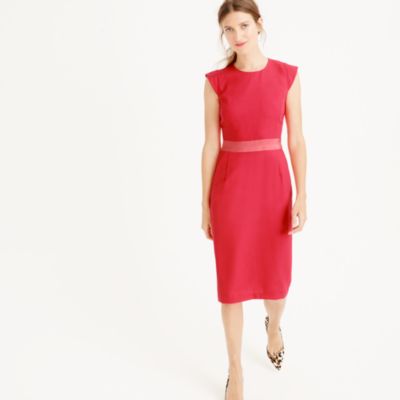 Image is clickable.
I'm really looking to the holidays this year - it'll be our first as a married couple and our first Christmas together in our eight years together! We took photos for our holiday cards this weekend and I'm very excited to mail them out to our friends and family. We're also hoping to make a tradition out of going to the Nutcracker every year.